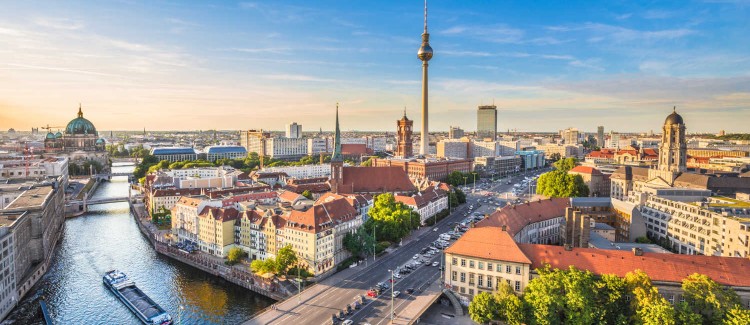 Weekly services or direct trucks to Germany! Simple and easy
Regardless of the size of your move, we're confident that we can offer competitive rates to all parts of Germany. At Dumond, we run our own fleet of vehicles and we have a team with many years of experience in handling everything from pianos, fine art, and antique furniture.
We have two types of moving services to Germany:
Direct Service - Dedicated vehicle to load your goods and go direct to deliver in Germany. Groupage Service - Shared large trucks that go and come from Spain every two weeks; your goods will be delivered within 14 days of collection.
More About Germany:
With forests, rivers, rolling country, and northern beaches, Germany has a little bit of everything to offer. Here you can find not only rural peace but also cities bustling with innovative, modern adventure and the hottest art and music scenes in the world. There is over 2,000 years' worth of history to explore in this expansive, amazing country, but the modern culture here continues to pull in the world's most creative minds.
One of the primary tourism draws of Germany is its hundreds of amazing castles dotting the countryside and mountains. Check out Neuschwanstein Castle, a fantastical fairytale castle that inspired the Disney castles of Cinderella and Sleeping Beauty. Or you can head in a darker direction by visiting the ruins of Castle Frankenstein in Muhltal, Germany, where an eccentric alchemist may have inspired a young Mary Shelley to create her famous doctor. Don't miss Europe's largest hillside park, Bergpark Wilhemshohe in Kassel, Germany, a sprawling day's adventure filled with three-hundred-old Baroque architecture and waterworks.
Berlin, one of Europe's most celebrated capitals, is itself full of adventure. Since the fall of the Berlin Wall, the city's food scene has exploded. Be sure to visit the Kaufhaus des Westens, where over 100 cooks and 40 bakers offer a snack lover's dream at this gourmet market. Or feel like a real Berliner by having a beer lakeside at Cafe am Neuen See, one of the most beautiful biergartens in the city. With beach bars, biergartens, and one of the wildest clubs scenes in Europe, your social life will never be boring. Explore the gorgeous Berlin architecture as well, from the neoclassical remnants of the Prussians to the ultra-modern Sony Center.
Moving to an EU country is very different than moving somewhere within the UK. The experts at Dumond can take care of every detail, from packing your items properly to handling documentation and delivering your items safely to Germany. We pride ourselves on our professional service and our ability to customize to our clients' needs. Let us relieve the anxiety of moving so you can enjoy the start of your new adventure.
POPULAR PLACES TO LIVE IN GERMANY
Berlin – Düsseldorf – Frankfurt – Munich – Hamburg – Nürnberg – Stuttgart – Cologne – Essen – Bonn – Regensburg – Heidelberg – Freiburg – Hannover – Mannheim – Bremen – Dresden
The below areas are also within our relocation and removal service areas;
Erlangen – Ingolstadt – Darmstadt – Wolfsburg – Landshut – Ulm – Aachen – Bochum – Leipzig – Karlsruhe – Augsburg – Trier – Darmstadt Coburg