Portfolio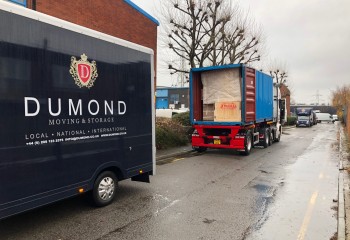 Moving is already stressful. Moving to another country, especially overseas, can be a, overwhelming, daunting task. How do you ship your stuff? What kind of paperwork do you need? Who do you talk to? The questions, and the anxiety, can pile up.
A client recently moved from London to Singapore, a huge move of 6,736 miles. The first step was meet with her, and inventory exactly how many items we would need to move. After an extensive survey, we calculated that a forty foot shipping container would fit all her belongings. Our crew in London arranged the parking permits for the container, and we carefully catalogued and packed up her home in three days.
Unfortunately, shipping containers can take up to five weeks for delivery, and the client had to be in Singapore before then. Since it wouldn't do for her to have nothing when she arrived, we arranged for a separate airfreight package, with a small portion of items she would need right away.
The export paperwork was completed and filed by our experienced customs agent. We then worked directly with a trusted partner firm in Singapore to arrange the receiving and unpacking of the shipping container when it finally arrived. The only item our client had to worry about bringing to her new home was herself.
It's a pleasure to help a client embark on a new adventure with as little stress and worry as possible. When it comes to paperwork, permits, and packing your belongings appropriately so they will survive a long trip intact, we're experts.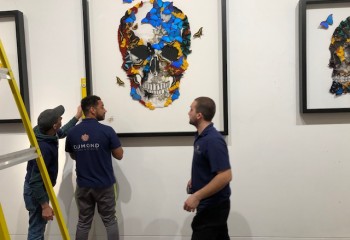 When we took on moving the Eden Gallery, we understood what a precious task we were signing up for. A gallery is a complicated project, with good reason. 95% of the items we were moving were works of art: fragile, expensive, and in many cases, irreplaceable.
To make matters more complicated, Eden's new space they were relocating to was not going to be available to the owners right after they vacated the old gallery. For three weeks, before the new property opened up, these precious items had to go into storage.
Packing up the gallery and moving it all into storage took a crew of a dozen men over three days. They carefully wrapped, numbered, and kept an up-to-date inventory of each piece. We were also careful to make sure the storage space was a controlled environment, with no leaks or humidity issues, to protect the fragile artwork.
When the new space was finally available, we brought everything out of storage, unpacked, and carefully hung each piece. A crew of twelve men took five days to unpack and precisely set-up the new gallery space to the owners' standard.
We pride ourselves on handling a client's possessions, whether it's world-class art or retail inventory, with the utmost care and respect. Our business is to make sure your business experiences as little delay as possible.
---