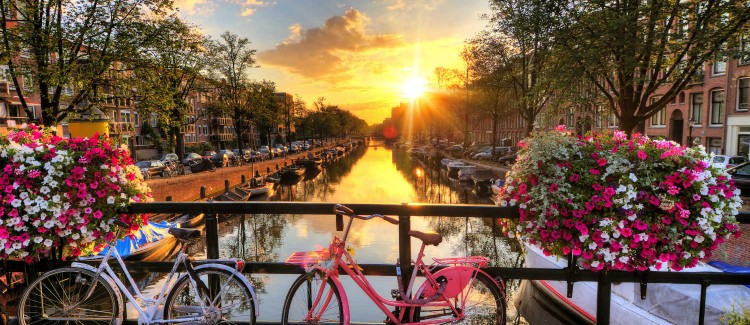 Planning a move to Holland? We can make it really simple and easy
Regardless of the size of your move, we're confident that we can offer competitive rates to all parts of Holland. At Dumond, we run our own fleet of vehicles and we have a team with many years of experience in handling everything from pianos, fine art, and antique furniture.
We have two types of moving services to Holland:
Direct Service - Dedicated vehicle to load your goods and go direct to deliver in Germany. Groupage Service - Shared large trucks that go and come from Spain every two weeks; your goods will be delivered within 14 days of collection.
What is more about Holland
The Netherlands is known for canals, tulips, windmills, and bicycling, but this beautiful country offers modern amenities, a cosmopolitan atmosphere, and a high standard of living.
The crown jewel of Holland is, of course, Amsterdam. This international city is a mecca for those who appreciate having world-class culture and dining with a relaxed vibe. Wherever you go in the city, you'll notice the preferred mode of transportation is the bicycle, and consequently, it's an incredibly bike-friendly urban center. If you prefer not to bike, public transportation is easy here, with ferries, buses, and trams all available to most locations. Don't be concerned if you don't speak Dutch right away, because Amsterdam is truly a multicultural center filled with highly skilled business professionals, and if you speak English, you'll get along just fine. The large city market, the Albert Cuypmarkt, offers a wide range of cultural cuisines, from Moroccan to Surinamese, and for fresh produce, you can visit the Noordermarkt every Saturday. And of course, there are museums everywhere, from the Van Gogh Museum and the Rembrandt Museum to the sprawling Rijksmuseum.
In the spring, the Dutch countryside is transformed into vast rainbows of color as the tulips start to bloom, and it's the perfect time of year to visit the iconic windmills of Holland. In Lisse, you can find the Keukenhof Gardens, also known as the Garden of Europe, one of the world's largest flower gardens. And while most of the medieval castles of the Netherlands have not survived, there are several beautiful ones still intact. Start with Muiderslot Castle in the province of North Holland for a truly stunning day trip.
Moving to an EU country is much different than moving somewhere within the UK. The experts at Dumond can take care of every detail, from packing your items properly to handling documentation and delivering your items safely to Holland. We pride ourselves on our professional service and our ability to customize to our clients' needs. Let us relieve the anxiety of moving so you can enjoy the start of your new adventure.